Agosto Colombo 400 Ton Knuckle Joint Press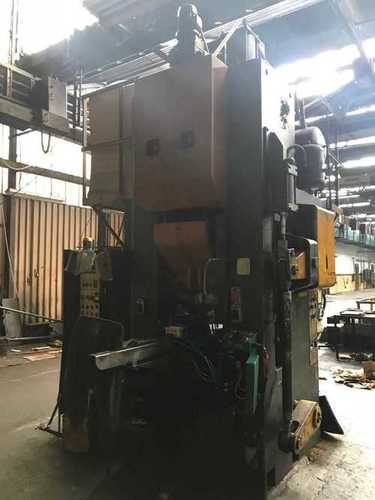 Agosto Colombo 400 Ton Knuckle Joint Press
Product Code : 02
Brand Name : Agosto Colombo
Agosto Colombo 400 Ton Knuckle Joint Press
We have successfully achieved a high level of customer appreciation resulting in long-lasting relations by offering products that are high in quality. We purchase all of our products directly from their origin places to provide excellence in both quality and price. All of our machineries offered including Agosto Colombo 400 Ton Knuckle Joint Press are precision engineered to provide high operational benefits to the user entities.

Product Description:
Machine Type:

Knuckle Joint Press

Machine Make:

Agosto Colombo

Machine Model: 400 Ton

Features: Easy Installation Pocket friendly prices Minimum Maintenance.
Technical Specifications:
Pressure

400 Ton

Spacing Of Racks

550 mm

Dimensions Of The Work Space

550 x 800 mm

Fixed Slide Movement

150 mm

No Of Strokes Per Minute

(At Continuous Work)

35 Cycles

Regulation Of Closing Height

When Sliding Down

350 mm

Adjusting The Slider In Vertical Plane

20 mm

Engine Power

30 KW

Approximate Weight

22 Ton
Buy used Agosto Colombo 400 Ton Knuckle Joint Press in very good working condition at a very competitive price.