DEEP HOLE DRILLING MACHINE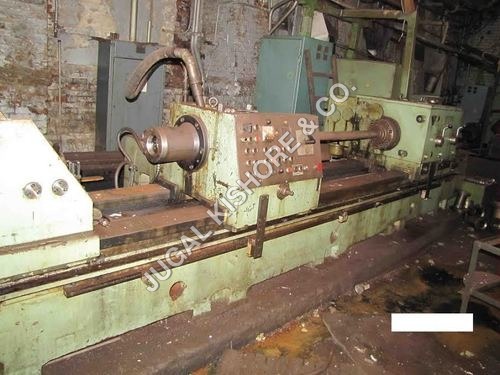 DEEP HOLE DRILLING MACHINE
Product Code : DEEP HOLE DRILLING MACHINE 1
Deep Hole Drilling Machine
We have successfully achieved a high level of customerappreciation resulting in long-lasting relations by offering products that arehigh in quality. We purchase all of our products directly from theirorigin places to provide excellence in both quality and price. All of ourmachinery offered including Deep Hole Drilling Machine is precision engineered, toprovide high operational benefits to the user entities.
Features:
Flawlessperformance, High functionality, Less maintenance, Long functional life
Technical Specifications:
Height Of Central Axis Over The Bed

500 mm

Range Of External Work-Piece Diameters

In A Roller Lunette

80 - 600 mm

In A 4-Cam Chuck

80 - 500 mm

Range Of Work-Piece Length

1000 - 3000 mm

Range Of Opening Diameters (Boring)

50 - 400 mm

Max. Work-Piece Weight

4000 Kg

Max. Stroke Length Of Stem Headstock

4000 mm

Range Of Spindle Rotation Frequencies

Of Work-Piece Headstock

22.4 - 355 RPM

Of Stem Headstock

Without Rotation

Range Of Working Feeds Of Stem Headstock

5 - 3000 mm/min

Rapid Feed Of Stem Headstock

5000 mm/min

Max. Torque Of Stem Headstock

at least 8.8 KN/m

Max. Productivity Of Pumping Station SOZH

1000 L/min

Max. Pressure SOZH

At 200 L/Min

4.0 MPA

At 400-600 L/Min

3.0 MPA

At 1000 L/Min

2.0 MPA

Power Of Work-Piece Headstock Drive

55 KW

Gearbox Power

10.5 KW

Total Power Of All Electric Motors Installed

117 KW

Overall Machine Dimensions(LXWXH)

15700 x 4555 x 2020 mm

Machine Weight (Including Electric Equipment)

34150 Kg
Buy used Deep Hole Drilling Machine in verygood working condition at a very competitive price.